FriXion Colors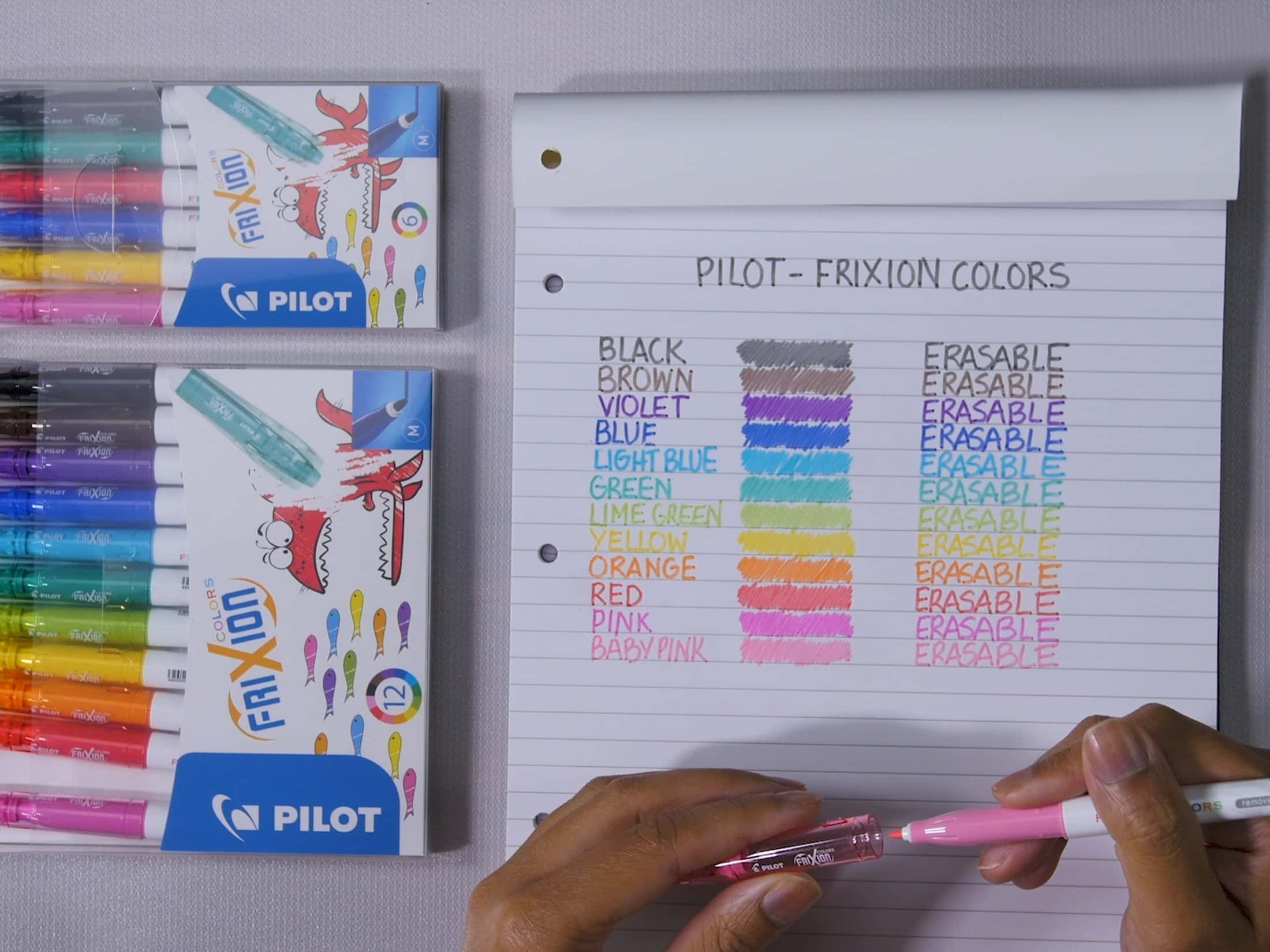 Keep the best, erase the rest with the unique colouring felt pen of the FriXion Family!
Change the end of the story with FriXion Colors,
the erasable COLOURING pen from Pilot!
Medium tip
:
2.5
mm
Writing width :
0.63
mm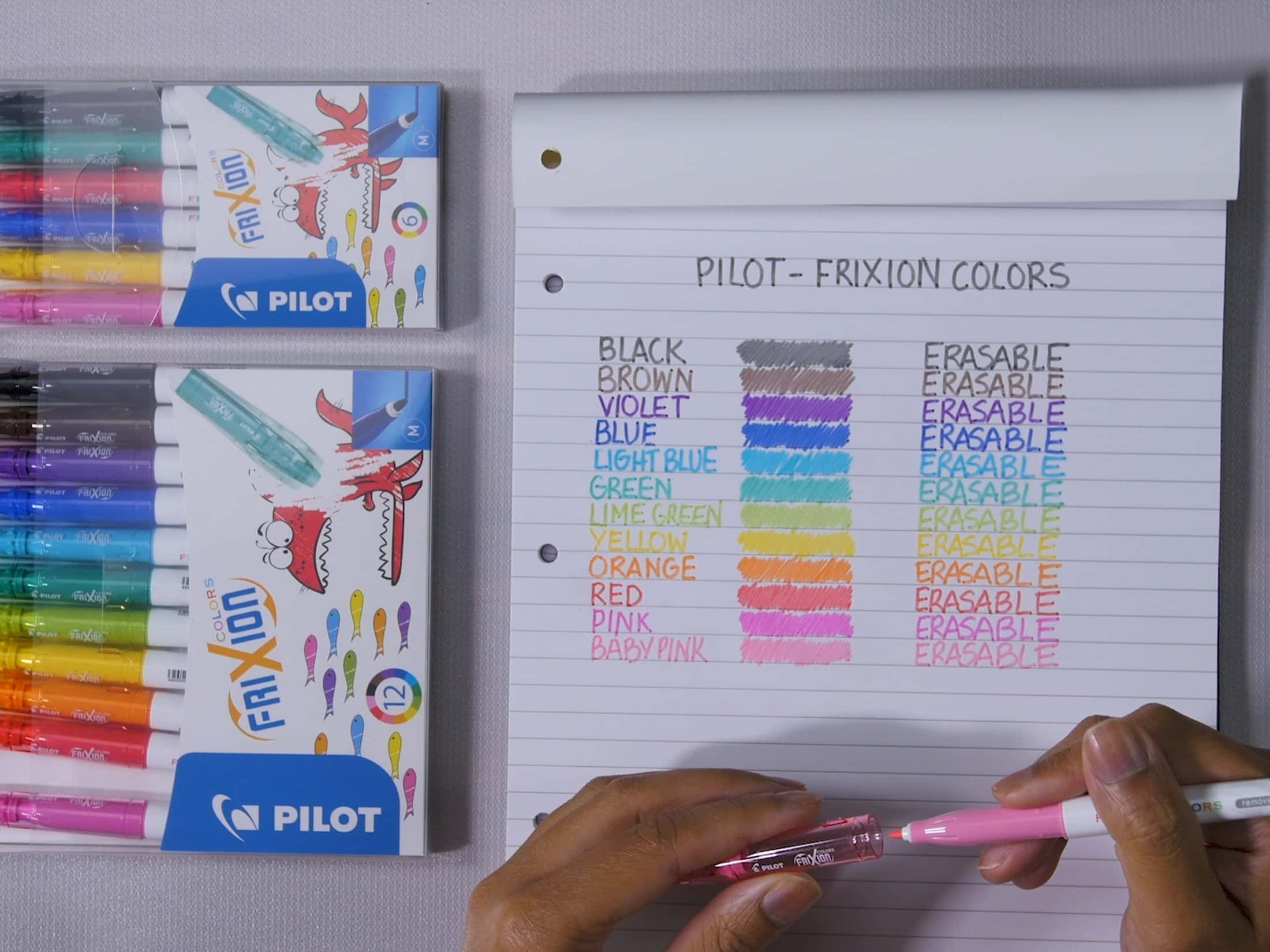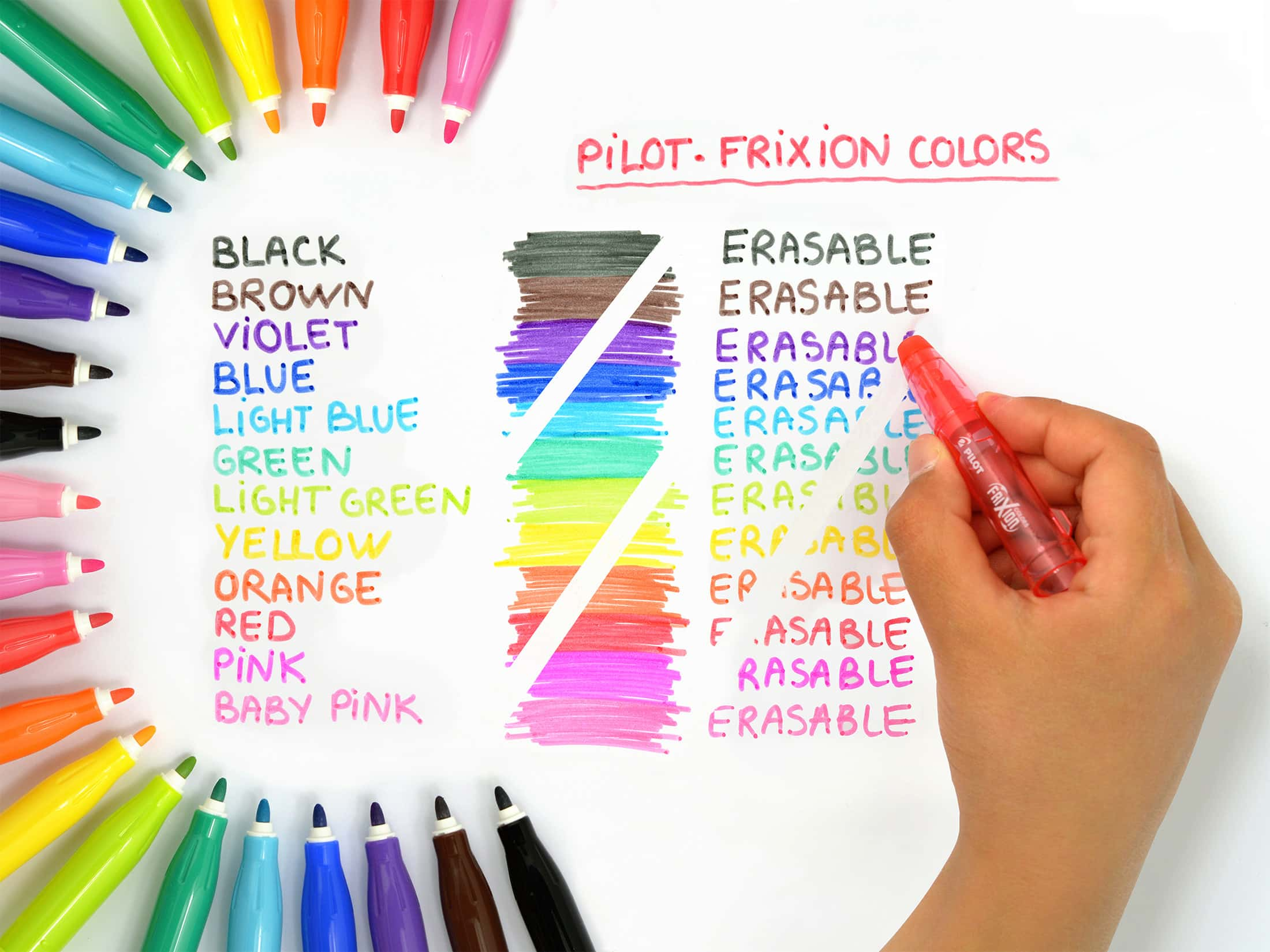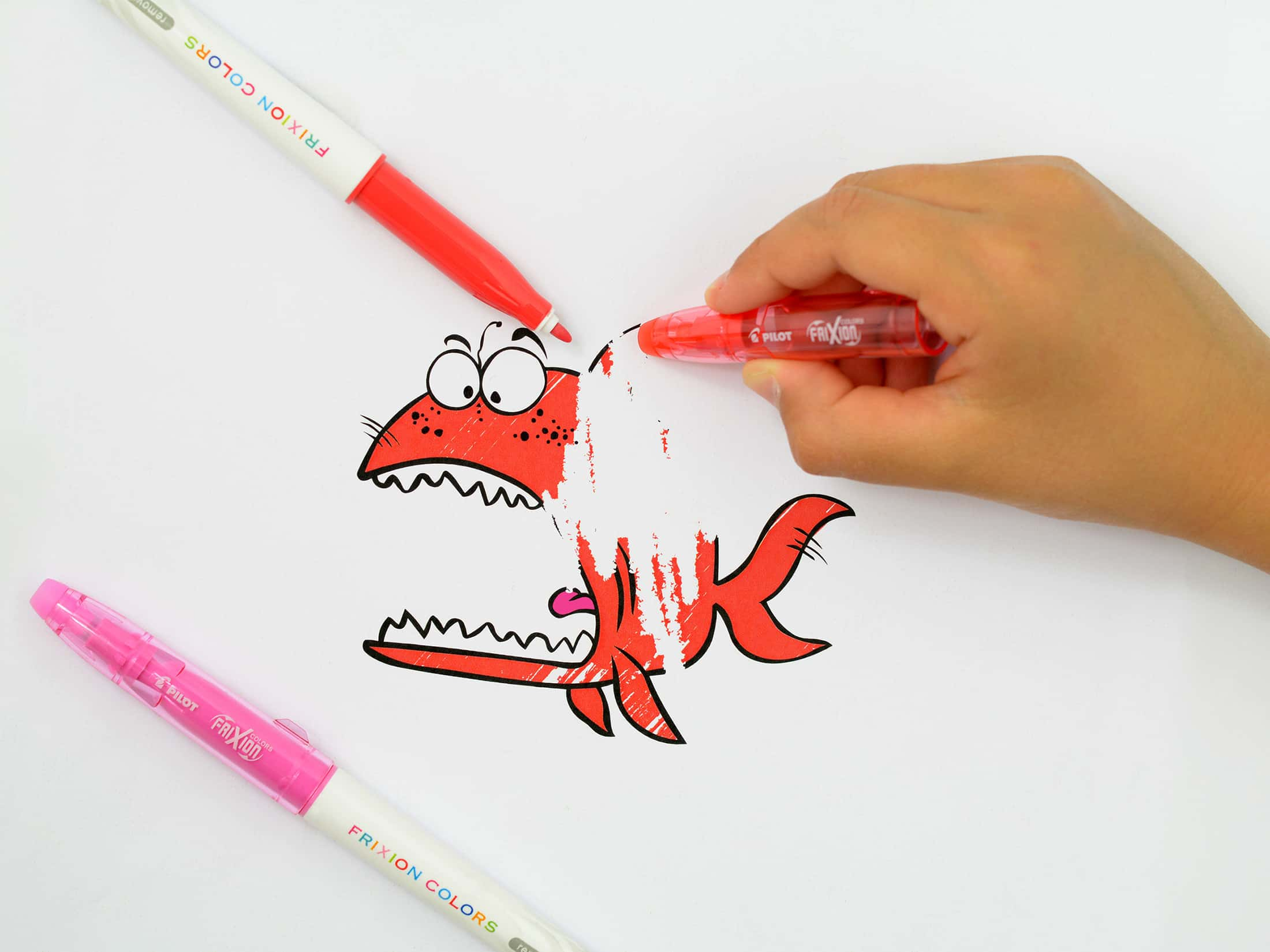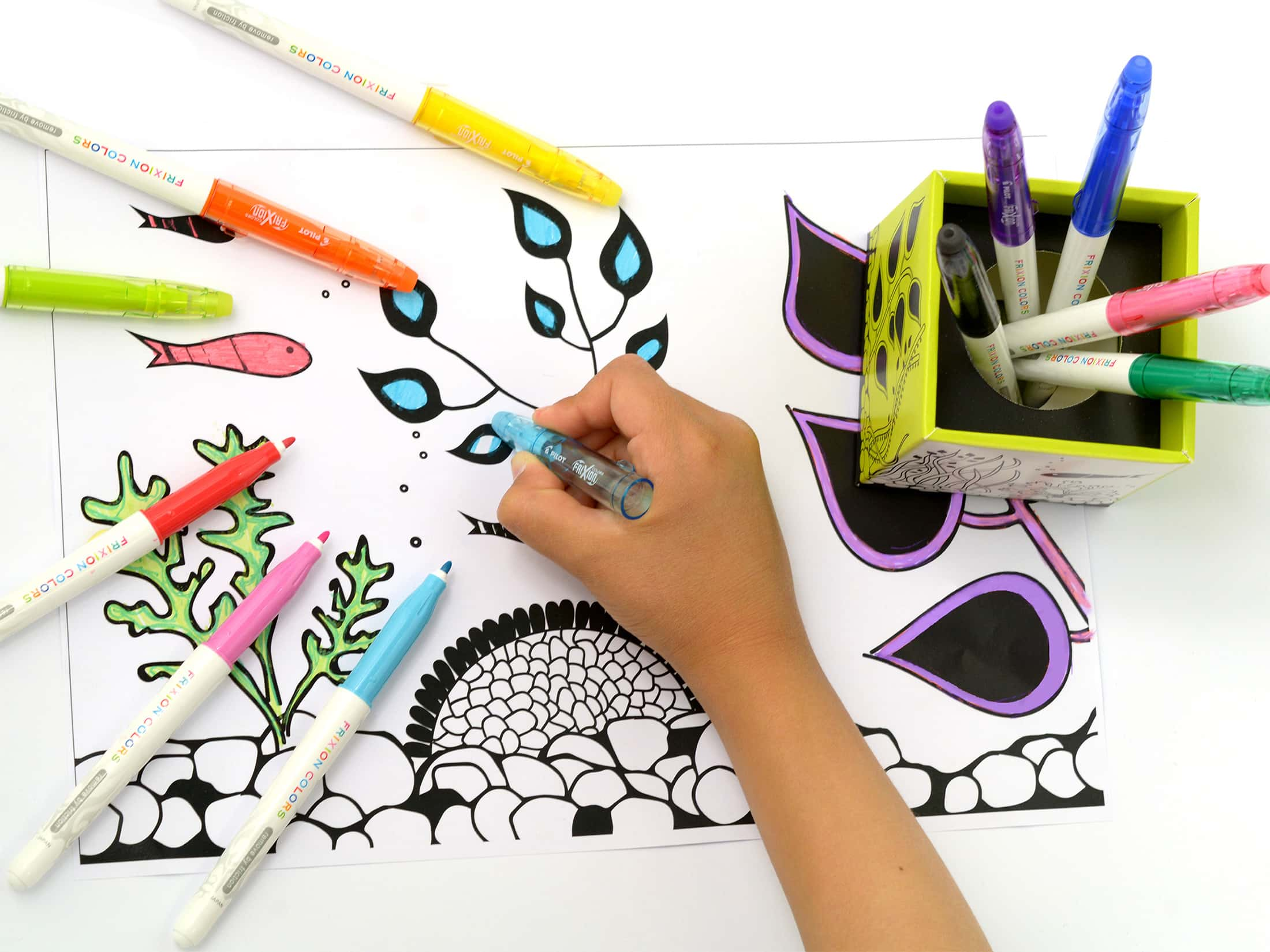 Change your mind, rewrite your story…follow your heart! Using FriXion Colors you can let your creativity run free to draw and colour. If your drawing is on the wrong track, simply erase with the attached eraser stud and start again.
The unique ink responds to heat generated by rubbing with the eraser and goes clear, allowing you to colour or draw over again (or leave blank if you have cleaned up where you coloured over the lines). The Frixion Colors pen is like a magic wand that lets you change the end of the story. Fairy tales or ferocious dragons? Wise cat or catfish? With the freedom of 12 colours you can listen to your imagination and transform your drawings as your heart desires, your creativity is the only limit!
With a huge number of practical everyday uses, FriXion Colors is much more than just a felt-tip colouring pen. With a pen this fun which never takes itself seriously, it's your turn to be #Happywriting
Thanks to the patented heat-sensitive ink, PILOT has - true to tradition - revolutionised colouring and drawing with the erasable felt pen FriXion Colors.
As well as drawing and colouring, FriXion Colors is also perfect for marking up notes or reference points in textbooks and is great to create your colourful bullet journal.
Because of the erasable ink, FriXion Colors must not to be used for signatures, legal documents, examination papers or other documents where writing needs to be of a permanent nature.
Not suitable for children under 3 years old.
FriXion Colors is the ideal pen for
Benefits and features
Thanks to the thermo-sensitive ink: Colour or draw, FriXion it and start again!
Unique felt pens for drawing, colouring, erasing and creating over and over, without limits!
Available in a variety of 12 colours so you can follow your inspiration.
2.5 mm polyester fibre tip gives a 0.69 mm colouring stroke.
Eraser on cap.
Fiber medium tip for smooth colouring and drawing.
FriXion it! with the eraser on the end of the cap.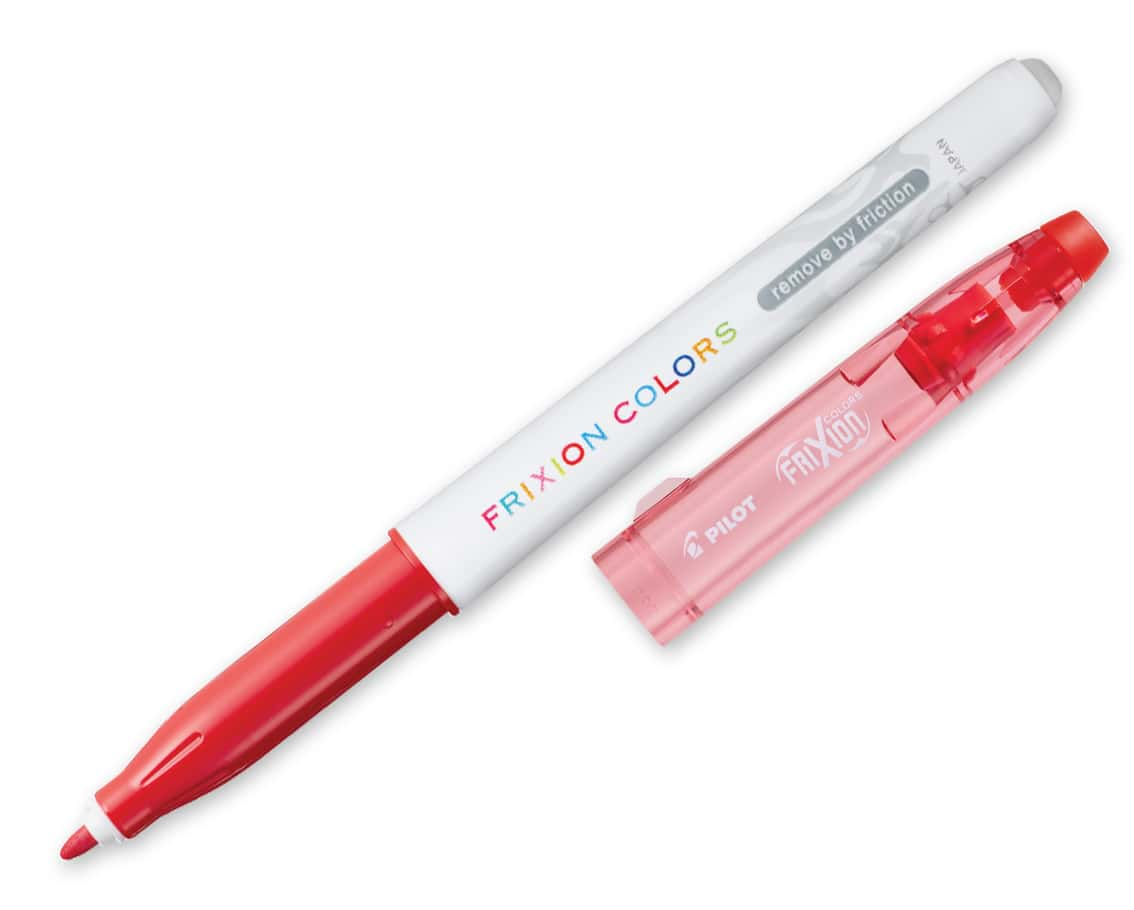 Must have & add-on
Drawing set
The FriXion Colors drawing set comes with a customisable pen holder.
Using your FriXion Colors, colour the drawings and change the colours as many times as you want to create your own distinctive pen holder.
Composition: 1 Pen Holder + 6 FriXion Colors, erasable felt pens (Black, Blue, Red, Pink, Yellow, Light Green).
My Magic Birthday Cards
Secret Invitation Birthday Cards
The sets 'My Magic Birthday Cards' are available now in two exciting editions: with funny circus motifs or with a cool party design. Each set consists of ten invitation cards for creative colouring and designing, two erasable FriXion Colors felt pens and two erasable FriXion stamps. The cute stamp motifs (stars, notes or cakes) will make your invitations something very special!

It is very simple to use: design your own invitation cards with FriXion Colors felt tip pens or FriXion stamps, erase everything and then send the secret messages to your friends. To make the card contents visible again, the recipient must put the invitation in the freezer for at least 20 minutes and the secret message will reappear as if by magic.
My FriX'Book
My FriX'Book is an interactive colouring book with a set of 6 or 12 FriXion Colors felt pens. Dedicated to kids and teens using a tablet, this app takes pics of their colourings and drawings – and animates them!
Choose your book and your heroe: in the first book, Frixie the cat, will take them on great adventure trips…OR in the second colouring book, FriXcolors boy or FriXcolors girl to prevent the super villain : Darker (who is really dark!) to blacken FriXcity with his dark weapons. The mission? Fighting him with colours thanks to FriXion Colors felt pens!
An innovative concept, perfect for developing children's imagination through connected games.
How does My Frix Book work?
1. I colour the drawing with my FriXion Colors felt pens. If I go outside the lines or want to change the colours, I erase what I've done and start over
2. I take photos of the drawings I coloured with my tablet using the free My Frix Book app
3. The drawings come to life and tell me wonderful stories!
Not suitable for children under 3 years.